Top 10 Indian Foods Rich In Vitamin K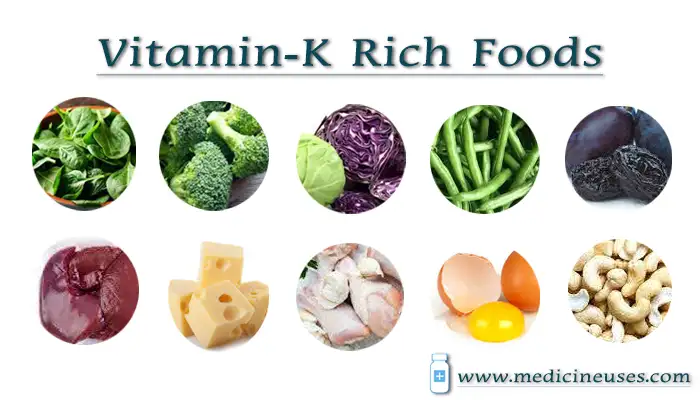 Vitamin K :
Vitamin K is one of the fat-soluble vitamins that play an important role in the human body and helps in blood clotting. Vitamin K is a more vital vitamin for the production of prothrombin, which is needed for normal blood clotting. In another simple term, it produces coagulation proteins that are needed to stop bleeding. It also helps to maintain healthy bones and teeth by aiding calcium absorption.
Vitamin K is essential nutrient required for protein modification, blood clotting, bone and heart health
Vitamin K is a group of compounds divided into two – vitamin K1 (phylloquinone) and vitamin K2 (menaquinone)
Vitamin K1 is mainly found in plant-sourced foods, especially dark, leafy green vegetables
Vitamin K2 is only found in animal-sourced foods and fermented plant foods, such as natto
A daily value (DV) of 120 mcg should prevent insufficiency in most people
Vitamin K deficiency may impair your health over time
Inadequate intake may cause bleeding, weaken your bones and potentially increase your risk of developing heart disease
Vitamin K is also produced by bacteria in your intestines and is contained in vitamin supplements
Ten Important Indian Foods Which is Rich in Vitamin K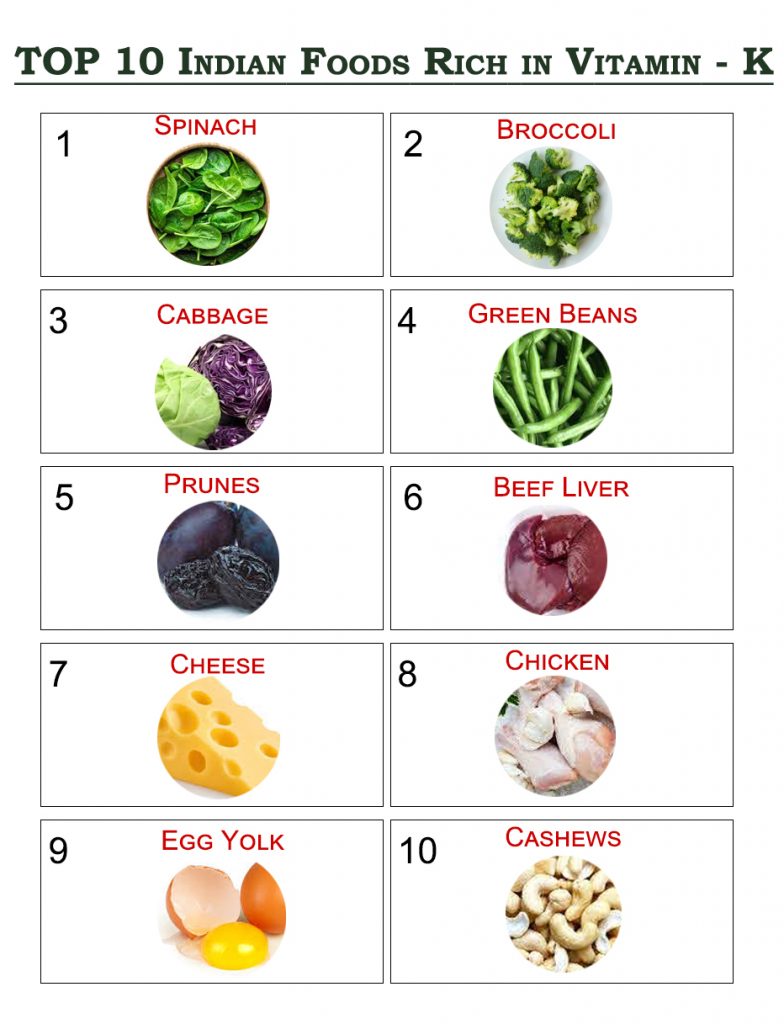 1.  Spinach :
Spinach is called powerhouse vegetable as it delivers many nutrients, such as vitamin A, vitamin C, antioxidants, fiber, folate, vitamin K, magnesium, calcium, iron and potassium
It is a low calorie food and particularly the fiber and protein, provides a sense of long-term satisfaction and fullness—that starchier vegetables and other foods may not provide
Contains phytonutrients including beta-carotene, lutein, and zeaxanthin, which protect our cells from damage and our eyes from age-related problems, among many other effects
And it also has small amounts of omega 3 fatty acids
100 grams of spinach serves 483 mcg of Vitamin K
2.  Broccoli :
Loaded with lots of vitamins, minerals, fiber and other bioactive compounds
The antioxidant content of broccoli may be one of its main boons for human health
It prevents oxidative stress leading to reduced inflammation and cellular damage in your eyes gives an over all health protective measure
Plays major role in cancer prevention and treatment
Presence of antioxidant and fiber in broccoli helps in blood sugar, healthy digestion and reduced constipation
Increases HDL levels and thy helps in heart health
Supports healthy brain and nervous tissue function
Slow the ageing process, good bone health and dental health
100 grams of broccoli has 141 mcg of Vitamin K
3.  Cabbage :
It comes in a variety of shapes and colors, including red, purple, white and green, and its leaves can be either crinkled or smooth
It is rich in nutrients and low in calorie
Cabbage is high in fiber and contains powerful antioxidants, including polyphenols and sulfur compounds helps in reducing chronic inflammation
This crunchy vegetable is full of gut-friendly insoluble fiber which aids in healthy digestion
Red cabbage contains powerful compounds called anthocyanins helps to reduce blood pressure and the risk of coronary artery disease
Eating more potassium-rich cabbage is a delicious way to lower high blood pressure
Cabbage contains substances called phytosterols which helps in reduce LDL cholesterol by blocking the absorption of cholesterol in the digestive tract
It can be eaten raw or cooked and added to a wide variety of dishes like salads, soups, stews and slaws
100 grams cabbage serves 109 mcg of Vitamin K
4.  Green Beans :
The fiber content of the beans helps prevent various forms of cancer, heart disease, and diabetes
The fiber also promotes digestive health, the calcium in the beans promotes bone health, while lutein and zeaxanthin boost vision
Beans have a low glycemic index and it contain saponins, gamma-tocopherol, and phytosterols, which are all compounds with anti-carcinogenic properties
It helps in control of diabetes and promotes gastro intestinal health, maintaining ideal weight
Green beans are rich in vitamin K, which is another nutrient essential for strong bones , promotes immunity and improves vision health
Green beans are abundant in chlorophyll, which also has a role to play in cancer prevention
The magnesium in green beans may also have a role to play in preserving heart health
Green beans also contain chromium helps in treating depression and promoting brain health
Green beans are rich in folate,folate is responsible for the production of red blood cells in the human body
It also plays a role in developing the nervous system of the embryo
Per 100 grams has 48 mcg of Vitamin K
5.  Prunes :
Prunes have a high sugar content and also high in fiber, which can help you regulate your bowels and your bladder
Prune juice acts as a laxative and helps in easy digestion
Prunes are a good source of potassium, helps with digestion, heart rhythm, nerve impulses, and muscle contractions, as well as blood pressure
Prune juice is a great source of iron and can help prevent and treat iron deficiency
Dried prunes are an important source of the mineral boron, which can help build strong bones and muscles
Reduce cholestrol levels and lowers BP, lowers the risk of colon cancer and its low glycemic nature helps in diet
Rich in antioxidant helps in lung health
100 grams prunes holds 60 mcg of Vitamin K
6.  Beef Liver :
Liver may support general health & wellness and increase immunity build up in the body
Rejuvenate the skin, gives a supercharge energy, helps in increase detox and accelerate muscle growth
Helps in strengthen bones
Vitamin K2 presence in it helps with calcium balance
Helps direct calcium into the bones and keeps it out of the arterial walls
Liver also contains copper, iron and selenium – three additional nutrients required for optimal brain function
Choline improves cognitive performance and prevents anxiety and mood disorders
Molybdenum is a trace essential mineral found in high amounts in organ meats, especially liver
Rich in antioxidants and help in the prevention of cancer cell formation
100 grams: 106 mcg
7.  Cheese :
Cheese is not only rich in calcium but in B vitamins as well which allows the bones to absorb calcium easily
Cheese is rich in healthy fats also rich in rich in potassium, phosphorus, and magnesium which are an exclusive combination for keeping your cardiovascular system in good state of health
Osteoporosis is a common problem seen among women after menopause, regular consumption of cheese is helpful for women
Cheese build muscles and bones stronger along with a stabilized metabolism
Cheese is rich in linoleic acid and sphingolipids, which are known for their antioxidant properties and these play a vital role in cancer prevention
Small portion of cheese prevents cavities and tooth decay
Helps in improved brain function and boosts immunity
Rich in omega 3 and fatty acids, a way to keep your brain in a good state of health
Good bacteria in cheese can boost gut health which improves your body's ability to fight infections
Per 100 grams has 87 mcg of Vitamin K in it
8.  Chicken :
Chicken is a source of high-quality dietary protein
Chicken contains nutrients linked with mood
Chicken has tryptophan, an amino acid that is responsible for raising serotonin levels in your brain
Serotonin is the "feel-good" neurochemical linked with mood
Chicken provides vitamins and minerals involved in brain function
Dark and white meat chicken contains vitamin B12 and choline, which together may promote brain development in children
Help the nervous system function properly and aid cognitive performance in older adults
Helps build muscle, strengthen the bones and promotes heart health
Foods high in protein plays a role in managing weight and normal blood sugar levels
100 grams of Chicken serves  60 mcg of Vitamin K
9.  Egg Yolk :
They contain high levels of cholesterol but also provide a range of vital nutrients and health benefits
A lower risk of gastrointestinal distress may be due to egg yolk proteins, such as phosvitin
Certain compounds called sulfated glycopeptides are present in the membrane of the egg yolk helps in boosted immune system
Egg yolk contains several compounds called peptides that helps in reduction of blood pressure
The carotenoids present may protect against cataracts and macular degeneration, two common eye problems that often develop after the age of 55 years
100 grams serves 34 mcg of Vitamin K
10.  Cashews :
Presence of unsaturated fatty acids, protein, fiber, vitamins, minerals and antioxidants may confer heart-protective, anti-carcinogenic and anti-inflammatory properties
Prevents blood disease
Cashew nuts are rich in copper plays an important role in the elimination of free radicals from the body
Cashews contains a powerful antioxidant pigment called Zea Xanthin
This pigment is readily and directly absorbed by our retina, helps maintain eye health
Selenium in cashews is not only good for your skin but helps prevent cancer
Omega 3 fatty acids pressent helps to boost the metabolic process to burn excess fat, beneficial for weight loss
Cashews are great source of dietary fiber helps in digestion problems
Cashew oil gives healthy shinny and hair
Cashew 100 grams has Vitamin K of about 34 mcg
Vitamin K Deficiency Symptoms and Signs
There are not much of a heavy toll in vitamin-k deficiency, which is not that common, but in rare cases, it can happen; for example, people with low-level vitamin-k in their body, this leads to bleeding and bruising problems. The signs of vitamin K deficiency are more difficult to notice but can include nosebleeds, gum bleeding(dental), blood in the urine or stool, and easy bruising.